At Nido Altamira, boys and girls enjoy daily immersive experiences that connect them with real environments. Through these experiences, they explore, marvel, investigate, discover, and generate meaningful learning. From an early age, the development of essential competencies such as critical thinking, collaborative work, creativity, and character and civic skills is fostered. These skills are indispensable for leadership in the 21st century. Additionally, their curiosity and sense of wonder are nurtured, thereby stimulating their motivation to learn more about the world around them.
Children possess inherent richness, strength, and power.

School provides a wide range of experiences that stimulate their personal and creative expression.

The relationships established in this educational environment strengthen students' interpersonal and socio-emotional skills, promoting their holistic development.
The teacher adopts the role of researcher and learner, fostering a collaborative approach in the classroom.

A challenging environment stimulates students' maximum potential, promoting their growth and development.

Learning becomes visible and enjoyable, allowing students to actively and motivatedly participate in their own educational process.
Everyday life provides opportunities for children to enjoy play spaces, promoting social interaction. These moments allow them to discover their interests, observe their relationship with the environment, and demonstrate how they construct new learning through these interactions.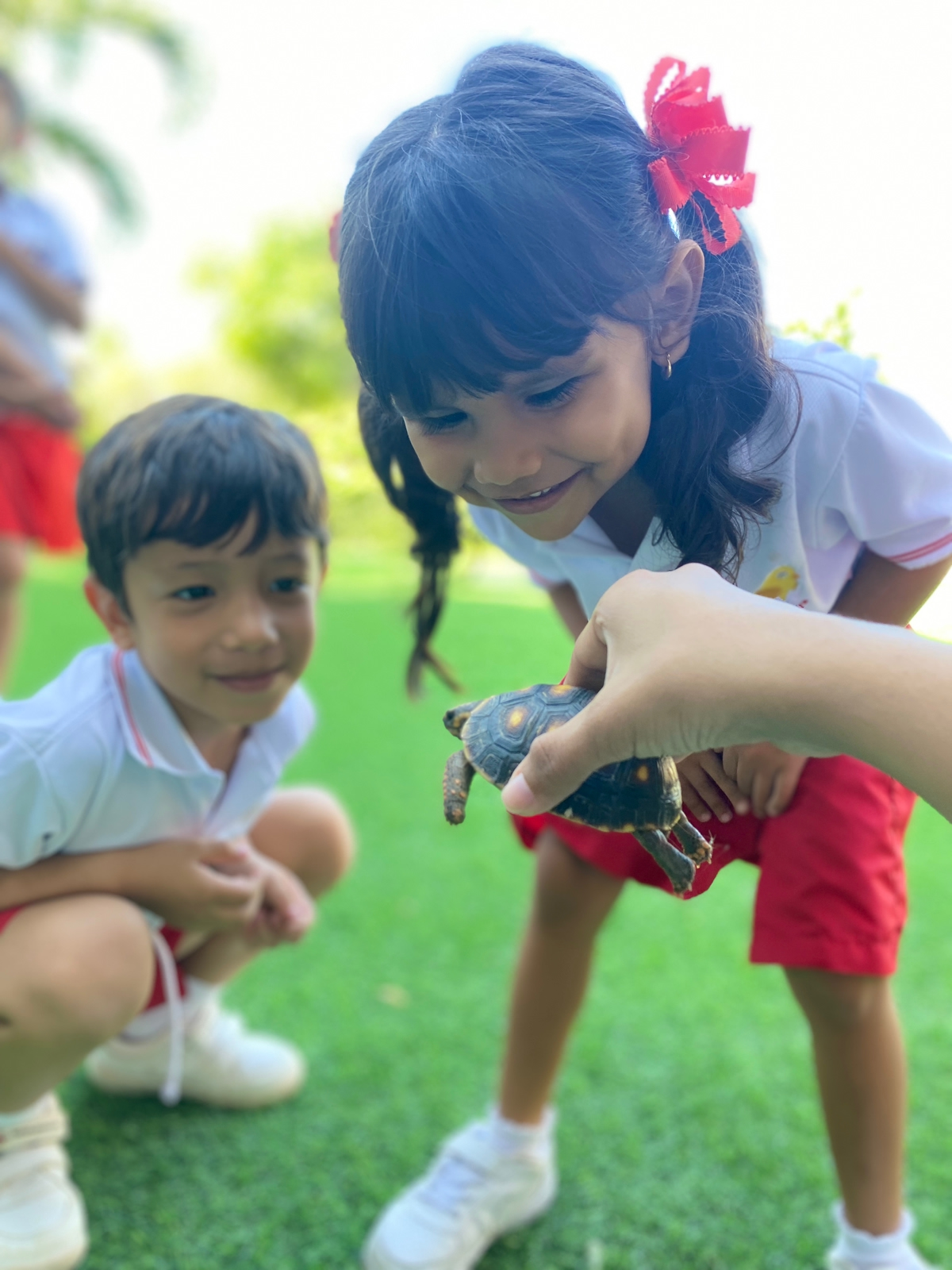 WE IMPLEMENT DEEP LEARNING
Through the deep learning approach, we give our protagonists an active role in the learning process, reflection, research, and inquiry. We provide them with the opportunity to share their point of view, interests, make decisions, and propose solutions.
We facilitate the connection of students with the real world, allowing them to contribute to the common good and make an impact on the community. Our approach encompasses the acquisition of the six global competencies: character, citizenship, collaboration, communication, creativity, and critical thinking, within the context of the proposed project.
Baby Explorer ( from 7 months )
This program is based on the premise that children of early age (>= 7 months) require stimuli from their environment, through mind blowing experiences and creative approaches that ensure their integral development. These contexts allow them to connect through their senses to the different colors, sounds, movements and caring teachers, which give way to building confidence and personality traits in their early years. Furthermore, teachers portray a series of qualifications and natural motherly traits that exemplify a loving treatment to all students, making them feel appreciated and cared for, that ensures a safe and growth-oriented experience.
This grade level places its value proposition on building student identity from social exchange in diverse and dynamic scenarios. Teachers guide students as they discover and enjoy meaningful adventures or experiences that contribute to their safety and involvement in their path to integral development. They will challenge them, through creative activities which are result-oriented, creating opportunities for emotional development when dealing with adversity. It is all about building character and personality in a fun, loving and creative way.
Students become natural explorers and researchers, seeking answers to fulfill their curiosity needs to every stimulus that the environment brings them. By exposing themselves through games, activities and interactions with other students, they acquire new skills, autonomy and self-worth. They begin to develop understanding over their emotions and feelings towards certain experiences that challenge their comfort zone. Its all about guiding them towards their better understanding of their emotional intelligence and desire towards new experiences and learning scenarios.
This is Nido´s last grade level before students join the Altamira School. Here, they begin to build self-steam and security through lessons and scenarios that relate to everyday life experiences for their context. Thinking is made visible through different languages, drawing, art and games, which are used to express thoughts, taste and interests. Teachers express love and care for their integral growth, with a passion that reaches the pureness of their hearts and minds, showing greater interest, empathy and sense of belonging that creates value and socio-emotional learning.
Programs for integral development
Dance and corporal expression
Healthy and Smart Dieting
Outdoor tours
Outdoor tours and exploration become one of the main daily experiences when enjoying our school. Before and after each exploration, we formulate questions, propose hypotheses, and set out with the purpose of finding answers and developing our own interpretations.
Discovering my surroundings
Our protagonists have the opportunity to enjoy new settings as they begin their Nursery level, exchanging experiences and embarking on a great adventure at the countryside campus. Filled with expectations, excitement, and anticipation, we start to make the space our own through tours. Curiosity, therefore, served as the foundation and inspiration to connect, explore, and discover wonders in this new environment, which provided the perfect setting for a year of reconnection in the post-pandemic era.